Vienna, the capital city of Austria, is a stunning blend of history, culture, and modernity that offers travelers a unique and unforgettable experience. From grand palaces to cozy coffeehouses, from classical music to contemporary art, Vienna has something for everyone. In this ultimate travel guide, we'll take you through the must-see attractions, hidden gems, and practical tips to make your Vienna adventure truly remarkable.
Getting to Vienna
When embarking on your journey to Vienna, you have a variety of flight options available. Many major airlines operate direct flights to Vienna International Airport, making it convenient for travelers from around the world to reach this enchanting city. Once you've arrived, the well-connected public transportation system makes it easy to get to your accommodation.
Accommodation Options
Vienna caters to a diverse range of travelers, offering accommodation to suit all budgets. Whether you're looking for luxury hotels with imperial flair or seeking a more local experience through Airbnb, you'll find the perfect place to stay. The city's districts each have their own unique charm, so you can choose a neighborhood that aligns with your preferences.
Exploring Historical Landmarks
Immerse yourself in Vienna's rich history by visiting its iconic landmarks. The Schönbrunn Palace, a UNESCO World Heritage site, boasts stunning Baroque architecture and meticulously landscaped gardens. The Belvedere Palace houses an impressive collection of art, including works by Gustav Klimt. And don't miss the Hofburg Imperial Palace, which offers a glimpse into the opulent life of the Habsburg monarchy.
Cultural Delights
For culture enthusiasts, Vienna is a dream come true. Attend a performance at the Vienna State Opera to witness world-class ballet and opera productions. The MuseumsQuartier is a cultural complex that houses a diverse range of museums and galleries, perfect for art aficionados. And of course, no visit to Vienna is complete without enjoying a classical music concert in a historic venue.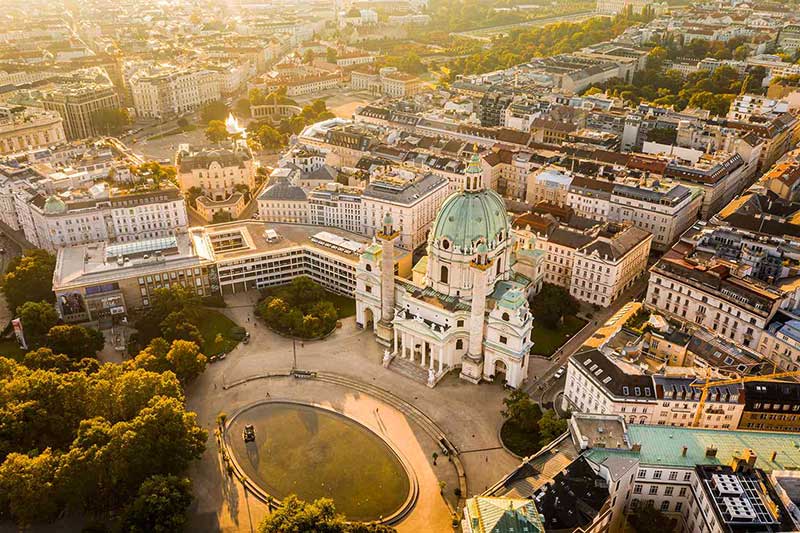 Culinary Adventures
Vienna's culinary scene is a delightful fusion of tradition and innovation. Indulge in authentic Austrian dishes like Wiener Schnitzel and Sachertorte. Dive into the city's coffeehouse culture, where you can savor a cup of Viennese coffee alongside a slice of cake. For those who love markets, the Naschmarkt is a paradise of flavors, offering fresh produce, spices, and international cuisine.
Discovering the Danube
The Danube River is an integral part of Vienna's landscape. Consider taking a leisurely Danube River cruise to admire the city's skyline from the water. On land, the Danube Island provides a recreational escape with its lush green spaces, cycling paths, and water sports activities.
Vibrant Nightlife
Vienna comes alive at night with its vibrant nightlife. Explore the city's bars and pubs, where you can enjoy local beers and cocktails. If you're a fan of live music, head to one of the many nightclubs that host both local and international artists, covering a wide range of genres.
Day Trips from Vienna
While Vienna has much to offer, consider taking day trips to nearby attractions. The Wachau Valley, a UNESCO World Heritage site, is known for its picturesque vineyards and charming villages. Just a short train ride away, Bratislava, the capital of Slovakia, invites you to explore its medieval old town and unique culture.
Shopping Experiences
Shopaholics will find their paradise in Vienna. The bustling Mariahilfer Strasse shopping street is home to international brands, local boutiques, and department stores. If you're interested in unique finds, explore the city's artisanal shops for handcrafted jewelry, textiles, and souvenirs.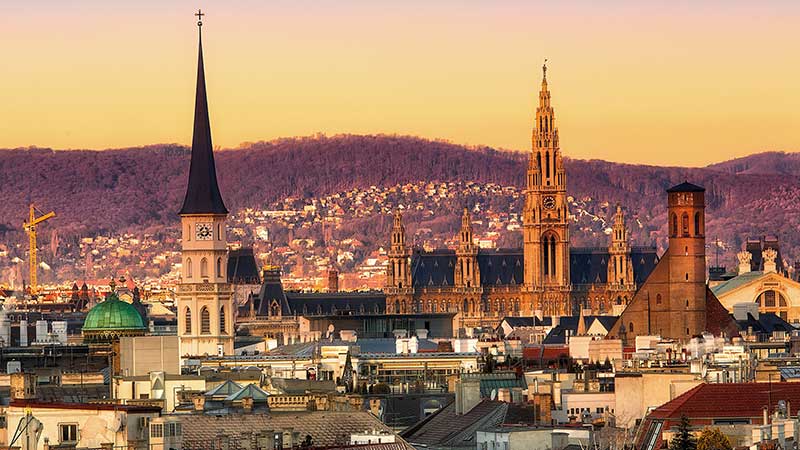 Embracing the Seasons
Vienna's charm is ever-present, no matter the season. Spring brings cherry blossoms to the city's parks and gardens, creating a picturesque landscape. In winter, the city transforms into a fairytale wonderland with its enchanting Christmas markets, offering mulled wine, handcrafted gifts, and a festive atmosphere.
Transportation Within the City
Getting around Vienna is a breeze thanks to its efficient public transportation system. The Vienna U-Bahn and tram system connect major attractions and neighborhoods. For a more active exploration, consider renting a City Bike to navigate the city's bike-friendly paths.
Safety and Etiquette
Vienna is known for its safety and cleanliness. However, it's always wise to take basic precautions, such as safeguarding your belongings and staying aware of your surroundings. When interacting with locals, a polite demeanor and respect for cultural norms will go a long way in making your stay enjoyable.
Local Events and Festivals
Immerse yourself in Vienna's vibrant local culture by attending events and festivals. The Vienna Ball Season, held during the winter months, offers the opportunity to experience the city's elegant ballroom traditions. During the holiday season, explore the city's enchanting Christmas markets, where you can shop for unique gifts and indulge in seasonal treats.
Conclusion
Vienna's allure lies in its seamless blend of history, culture, and modernity. From exploring opulent palaces to sipping coffee in charming cafés, every corner of the city tells a story. Whether you're a history buff, a culture enthusiast, a foodie, or simply an explorer at heart, Vienna welcomes you with open arms.
Frequently Asked Questions
Is Vienna an expensive city to visit?
Vienna offers options for all budgets. While luxury experiences are available, there are also affordable accommodation and dining choices.
What is the best time to visit Vienna?
The spring and fall months offer pleasant weather and fewer crowds, but Vienna's winter markets and holiday festivities make the colder months equally enchanting.
Are English speakers commonly understood in Vienna?
Yes, many Viennese locals speak English, especially in the tourist areas. However, learning a few basic German phrases can enhance your experience.
Can I use public transportation to get from the airport to the city center?
Yes, Vienna has excellent public transportation connections from the airport to the city center via trains and buses.
Are credit cards widely accepted in Vienna?
Yes, credit cards are commonly accepted in most shops, restaurants, and attractions in Vienna. However, it's always a good idea to carry some cash for smaller purchases.